In November, we had the amazing opportunity to help Papa, Dustin's grandad and a retired Army helicopter pilot, take to the skies again on his 80th birthday. As a surprise, the family bought him a training flight (30 minutes classroom time and 30 minutes flight time) on a Robinson R44 from Alamo Helicopter Tours. Papa didn't know about the flight until we pulled up to the airport (although he had his suspicions as we approached Stinson Airfield)…the smile on his face was as big as the moon when Dustin told him that he wouldn't be riding in a helicopter, but actually flying one.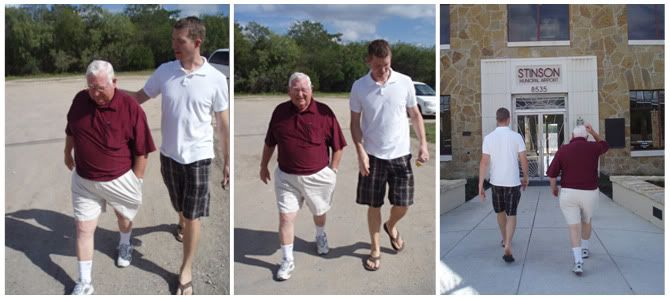 (Dustin telling Papa what the family had bought him for his 80th birthday)
What surprised us the most was that the 30 minute flight school actually turned into a 2 1/2 minute conversation between Papa and his instructor (an Aggie by the way)…when they walked out of the classroom we all thought something was wrong (b/c it was supposed to be a 30 minute lesson), but the instructor simply said "this guy knows it all, it's time to fly". WOW – even after all these years Papa remembered everything and was able to convey that to his instructor.
(Papa in his training class and with his instructor)
So, off they went – Dustin got to ride in the back seat and he said it was truly amazing to see Papa take control of the copter so effortlessly and so confidently. Dustin said that several times during the flight he could hear Papa in the microphone coaching himself, telling himself what to do, and reminding himself how to do it.
(Papa & the instructor walking to the copter & flying high)
When it came time to finish the flight there was about 7 minutes left and the instructor asked Papa if he wanted to 'buzz downtown' to see the sights, but Papa declined…he instead wanted to practice his landing and take off one more time! He had so much fun and it was fun to be a part of such a special day for him.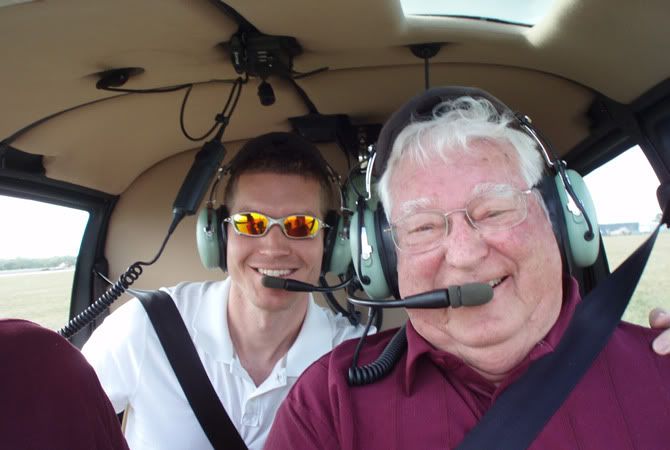 (Papa & Dustin in the Robinson R44)
(In the copter)
Overall, Papa gave the day & Alamo Helicopter Tours a thumbs up…or is that a Gig em?
To see all the pictures from Papa's flight, click
here
.
You can view some videos that Dustin took on YouTube – here are the links:
http://www.youtube.com/watch?v=uvloJwiYSsE
http://www.youtube.com/watch?v=Qb990m3Q5aU
http://www.youtube.com/watch?v=ZJRCGg423aI
http://www.youtube.com/watch?v=yIRpAbhU_LE